Passages from the books of Nehemiah, Psalms, Jeremiah, 1 Corinthians, and 2 Corinthians made for the perfect Bible Journaling entries this week. I also began two different series this week. One focuses on figures and the other is of Mixed Media entries. I've provided links to supplies you'd like to support our ministry with your purchase.
Sometimes my dog, Ruby likes to read the Bible with me. Who do you enjoy sharing the word with?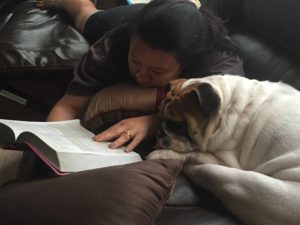 How do you like my version of Starry Night? I've recreated it in this Bible Journaling entry in the book of Nehemiah with our new fall printables. They're available for purchase in our store: http://ow.ly/QJJm30g1MRv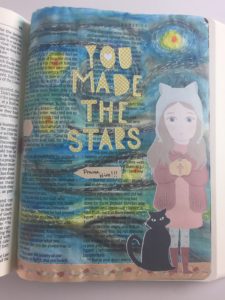 I started doing something a little different. I began this series of faces in the book of Psalms with this Bible Journaling entry in my Faith book. I've used watercolors for this illustration.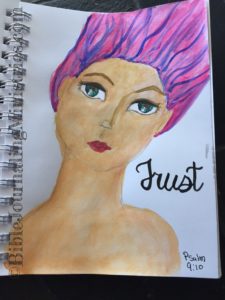 Remember this one? I finally finished this Bible Journaling entry in my Canvas Bible in the book of Jeremiah. It's done using gel pens.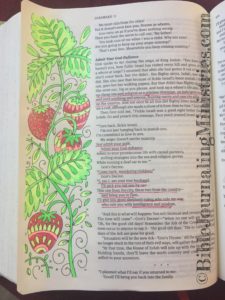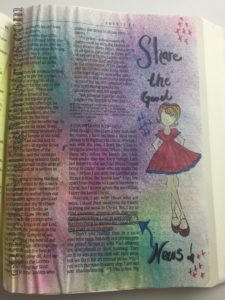 Here's another fun face in my Faith Book. This Bible Journaling entry comes from the book of 2 Corinthians.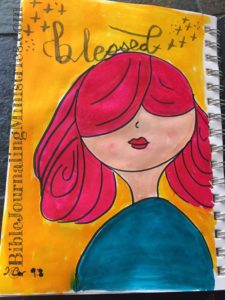 I've stenciled a heart into this Mixed Media Bible Journaling entry from the book Nehemiah. You just need spray inks and stencils to achieve this look.