Did you know you can win an Illustrating Bible from our ministry? There are still eleven months left to have a chance at winning the Bible of your choice (up to $100) from Bible Journaling Ministries and there's only one thing you need to do…
Engage in our Bible Journaling for Beginners Facebook community. Yep – it's that simple.
Every month through the year we'll pick the most engaged person and gift her (or him) a free month of Momentum ($25 value). If the winner would prefer to gift it to a non-Momentum member – that's awesome…we'll match the gift!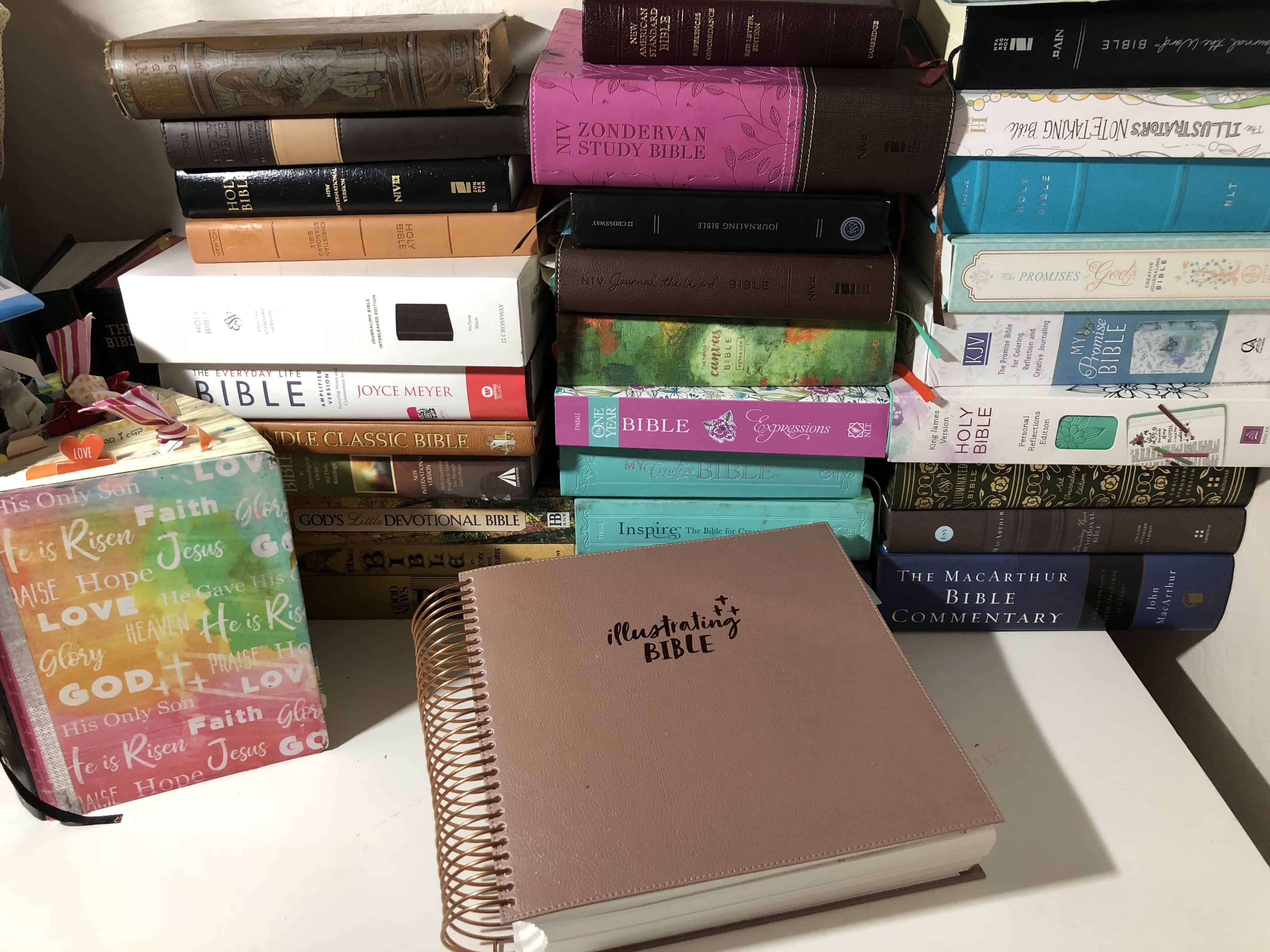 In January, Tracie will put all 12 winners into a jar and pick one person to win a brand new Bible. The winner may choose any Bible up to $100 in value including the new Illustrating Bible.
How to Win
Comment, post, and like in the Facebook community. That's it. See something you like? Give it a heart or a thumbs up. Comment on someone else's post and share some encouragement. Post your own Bible journaling to inspire others.
I pick the most engaged person to win the monthly drawing.
There will be 12 winners for the free month of Momentum and one (1) winner picked from the 12 for the Bible.
If an international friend wins, we won't ship that heavy Bible to ya – sorry – not cost effective. However,  we'll work something out (like a reimbursement).
This giveaway is not sponsored by anyone except Bible Journaling Ministries.
If you like this giveaway, please consider liking our Facebook Page. It really helps spread the word. Thank you!
Winners so far and in the running for the Bible:
2021 Winners
Sue M.
Lisa R.
Seesa D.
Sue C.
2020 Winners
Seesa D.
Lisa R.
Holly R.
Jackie T. – 2020 Winner – Chose the purple Inspire PRAYER Bible Giant Print NLT
Dina F.
Candace M.
Starr L.
B. Dobie
Danielle M.
Madelein B.
Linda B.
Tamisha M.
2019 Winners
Patty D
Lisa H
Angee B
Ashley M
Mary B.
Carmen P.
Ariel T. – 2019 Winner – Chose the Illustrating Bible in Green
Jackie T.
Lillian L.
Tammy W.
Cathy M.
B. Dobie
2018 Winners
Charliemae – 2018 Winner – Chose NIV Life Application Study Bible
Mary B
Paula N
Lury R
Candida R
Patty D
Cheryl R
Kathleen R
Tamisha M
Lisa H
Zeleny G
Ruth E